I spent last night at the fabulous Partners & Crime bookstore in NY (which just happens to sit right below the equally fabulous literary agency I'm represented by) celebrating the release of the equally equally fabulous Stefanie Pintoff's second novel.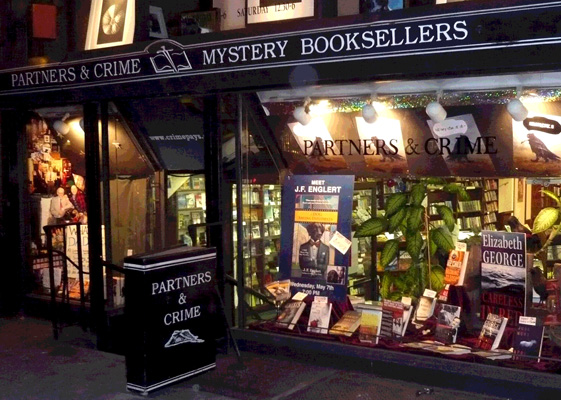 Stefanie's mystery series, set in old New York, was the perfect release to echo the atmosphere at Partners & Crime. Candles–electric, but still–flickered. A marble mantle–behind the podium where Stefanie read one of her sharp, sly scenes, laden with portents–recalled such eerie childhood classics as John Bellairs' THE HOUSE WITH A CLOCK IN ITS WALLS. Partners & Crime boasts many first editions, set behind multi-paned wooden cabinets with the glass removed for easy access and perusal, which brought me right back to days spent combing the library stacks in the early 1980s. Stephen King's CUJO with a picture of the slavering dog. Dean Koontz.You can go there–the bookstore, not the stacks–and find some of your own lost treasures.
A good time was had by all.
In these changing times, bookstores such as P&C can accomplish something internet purveyors of books will never be able to do: bring authors and readers together in real-time, live interaction. No video feed embedded in an e reader can ever match that.
So I'm going to add something to the above. If you buy Stefanie's thus far dazzling follow up to her first Edgar award winner–this one set in the brutally competitive world of the Broadway stage–why not give something a little different a try and do so here.
And raise a glass with me to books and bookstores. Long may they run.