Imagine you're blowing up this great balloon, it's brilliant blue or bronze or scarlet, and you're blowing, and blowing, and blowing, and it's gonna be great, the biggest balloon ever, you can just see where on the wall you will hang it to welcome all the guests…and then it suddenly escapes your lips and flies all over the room with that horrible farting sound, only to lie dead and shriveled on the floor.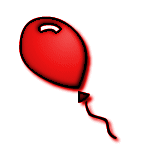 I promised you guys no more back story posts because I thought I might be done. I mean, I wasn't counting chickens or anything. I was knocking wood, and feeling humble and humbled by my time so far in this industry. I was hoping other writers better than I would hurry on their own way to success.
But I did think mine was in sight.
You see, my agent  had found a fantastic editor. An editor who grokked my work. Who seemed more passionate than any of the 13 before who have wanted to acquire something. She was working like crazy at the house to be able to make an offer. A wonderful writer, whom I am not naming only because I don't have his or her permission, had read my work and offered support, and the editor had already managed to get many of the people at the house on board. I was closer than I'd ever been–and I've been close. Achingly close.
[Interruption. Authors are the most wonderful people on the planet. If you have to try and come up in a notoriously difficult profession, it better be writing. I've heard whispers of professional competition, but all I've ever seen have been writers helping writers, remembering what it's like to toil unpublished, and wanting to extend a hand. Sending the elevator down, as Dennis Lehane puts it.]
Things got tenser. I filled out some things for my agent, putting down on paper plans that have been roiling around in my head for years now. The editor had read my other book a year ago, and liked it. Now she wanted to have it on hand again.
I admit that I began to get just a little–OK, maybe more than a little–hopeful at that point. (It had been 5 weeks).
This was really going to happen. Wasn't it?
No, it wasn't. There are a lot of moving parts to a publishing house, and a lot of people have to see things the same way for a book to be acquired. It seems baffling to me, because of course, books are acquired every day. But for whatever reason, mine won't be. Not this time. Not by this editor.
How do we pick ourselves up after raised hopes, crushing disappointment, and battered self esteem? (How good can I be if time after time I ultimately fail to sell?)
My agent has been wonderful. She is a champion in all respects of the word. Her loyalty, faith, and passion are unmatched–every writer should have an agent like this. I have to repay her soon, and I do mean repay.
I don't know what will happen next. I've hosted Writing Matters panels on alternate routes to publication. Am I meant to go down one of those roads? Barry Eisler just decided to, but Barry Eisler has been making a living in this industry since he was a young man. He has the means–and maybe more important, the validation, to try something different. He's also got an audience, but others have shown how that can be built.
But the validation. Getting this close this many times doesn't feel like validation. It feels like I couldn't hack it in the final minutes of the game.
Validation.
Aye, there's the rub.
Doesn't every writer dream of holding her book in her hand–a book somebody else believed in enough to put there?
Should I give up that moment we all yearn for?
It's like not getting to go to my senior prom all over again.
I don't know what I should do. Please leave a suggestion. And tune in again.